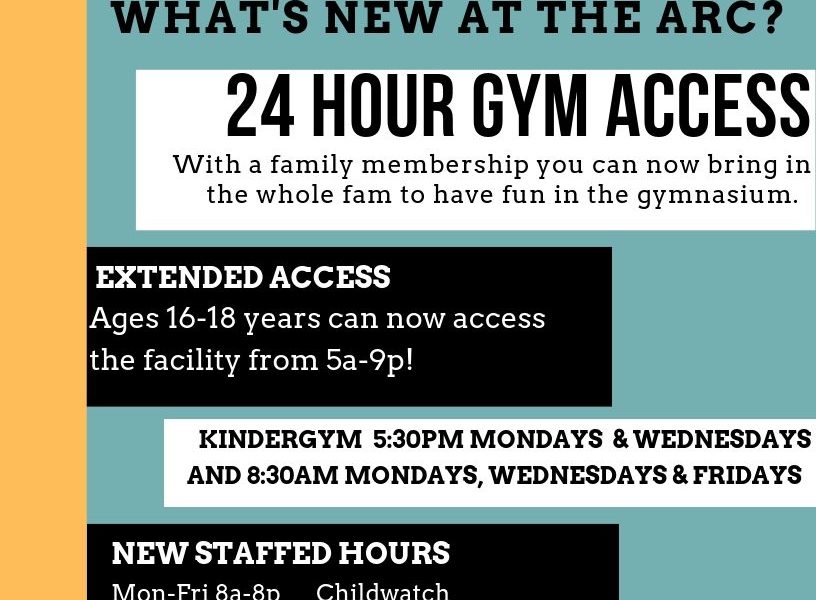 Member Update – September 2019
Member Update – September 2019
Can you picture a swarm of bees? Not wasps. NEVER wasps. But bees – the nicer ones, busy at work, building a hive, making some of that sweet, sweet honey? There you go. Well, that's us. Fall is the time of year we go absolutely BANANAS with activities and memberships and programs and games and events and grants and projects and…… see? It's fall, y'all. And it's shaping up to be a DOOZY!
New this Fall!
Did fall come out of nowhere this year? Can we get an AMEN!?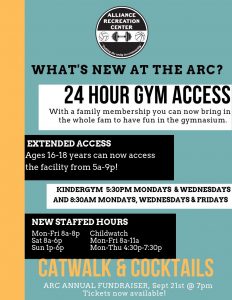 Fall is happening and so are SO. MANY. THINGS at the ARC.  SO here's some of the biggies:
The Gymnasium is now open 24 Hours a day 7 Days a week! ALL THE REC, ALL THE TIME!
Family 24/hr access is now a thing! Want to bring Johnny out to play Sunday morning in the gym so he stops climbing your walls? OKAY!
Extended Access is for all 16-18yrs who want to come work out regardless of available staffed hours. Extended Access keyfobs work 5AM-9PM 7 days a week! So get in here & build those healthy habits, ya' teenagers!
The XFit Room is now open to all members during staffed hours! Check out our Group Exercise Schedule for posted class times.
New staffed hours are in effect. Check 'em out by clicking on this flyer to the right!
And the Fall Program Guide is out! Check out what's going on at the ARC through the end of 2019!
Annual Fundraising Event
Every year we set out to fund our Financial Aid Fund at the ARC. This fund helps maintain our mission to never turn anyone away based on their ability to pay.
This means everyone in our community can and will have the opportunity to seek membership or participate in programs like ARC Afterschool, flag football, and Summer Camp to build strong characters, healthy habits, and positive relationships regardless of their socio-economic status. And in our community, that's a BIG number of people. For 2020, the financial aid need stands at just under $30,000.
We firmly believe that kids, above all else, should have access to quality programs regardless of their parents' ability to pay. Research shows programs like ARC Afterschool provide positive outcomes for kids of low-income households. Because our elementary schools have an overwhelming number of students qualifying for free or reduced-lunch, it is imperative that we come together to provide the support all kids need to be successful community members, leaders, and business owners in the future.
So how can YOU help? Easy! Buy a ticket, be a model, make a donation – or DO ALL THREE! Here's the event rundown:
Catwalk Details
Models sign up in the following categories: Decades, No Sew, Futuristic, Workplace Pride, or Write-In
A panel of judges will select the top models in each category with a Best Overall winner.
Audience members will cast votes for the People's Choice award.
A surprise guest will perform while votes are counted.
Food, Drink, & Perks
Special hors d'oeuvres include a QUESO FOUNTAIN, cocktail shrimp, and other goodies.
A Free keg will be on tap with other specialty drinks available for purchase.
As an audience member, you are automatically entered to win 2 ROUND TRIP tickets provided by Denver Air Connection!
After the Catwalk is over and the winners are announced, ElectroWave Entertainment will cap off the evening.
Wine Pull Station
30 bottles of wine are available ranging in price from $11-$50.
Pull a cork for $20 for your chance to win.
80% chance of winning a bottle!
Sponsors
Where would we be without sponsors? Nowhere. Real talk.
This organization can not — and should not — operate on it's own. We are a community center and we place our members and partnerships at the very heart of what, how, & why we do everything.
We are proud to call Parker, Westco, Dairy Queen, Bernie's Hardware, and First National Bank (and a few others still in the works!) our partners and biggest cheerleaders. These businesses have invested time and time again in our community's families and youth in many ways beyond the ARC. We appreciate the opportunity they afford us to keep serving our community.
---
Are you still here?
Well, pat on the back, my friend. You really are invested in these updates. I like that about you. You wanna know some more fun stuff we're working on? I hope so! Here's the behind-the-scenes stuff:
We submitted a grant application to Snow Redfern Foundation. They're our fabulous ARC Afterschool & Summer Camp founding partners and we're excited to bring them back in for year 2.
We submitted for an award-type grant through First National Bank to fund our playground project.
We will submit to BNSF & KaBoom! for the remainder of the playground project and you might just find me asking for some support from the city through ACE funding. It's not taxpayer money. ACE funds are designated funds used for community betterment projects (like the disc golf course), and I can't think of a better use than more playground equipment for kids.
Our facility committee will be spraying parking lot lines, field lines for flag football, AND…. (and this one I'm REALLY excited for…) is making plans to TEAR OUT THE BASEMENT CARPET.
Our partnership with Panhandle Gymnastics is going well. Ashley has been great to work with and the kids seems to enjoy her classes.
Our finance committee will meet soon to set the budget for 2020.
AND, we will be opening up some positions on our Board of Directors as well as some of our committees, so be on the lookout for applications!