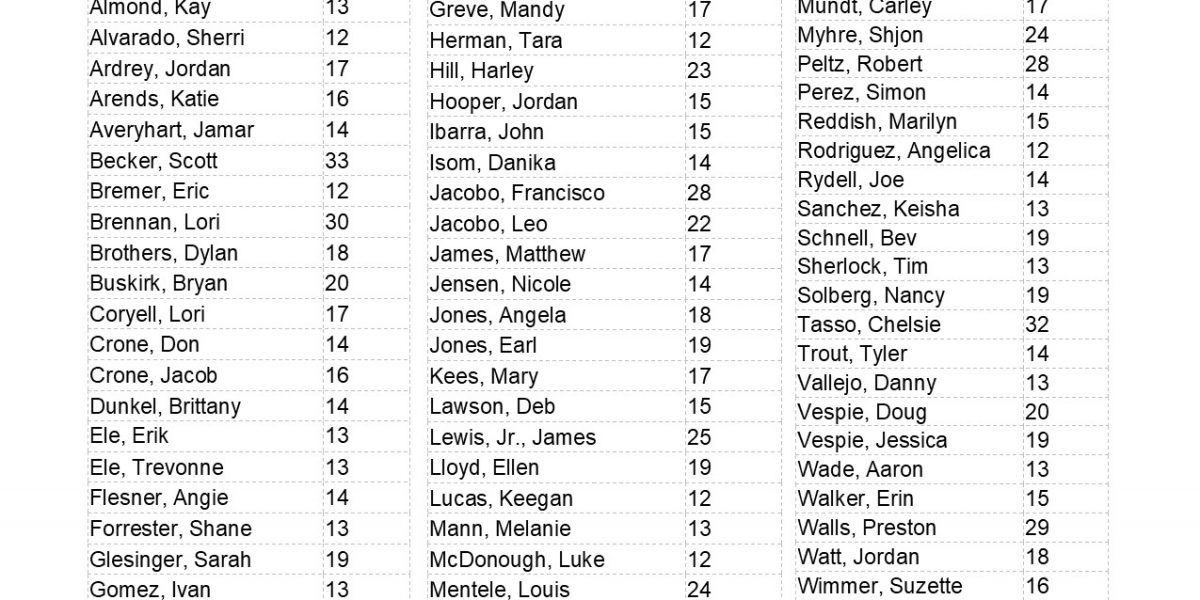 Member Update – October 2019
Members! It's monthly update tiiiiiimmme!
Membership
Membership is up 20% year-over-year. Really. Holy record, batman!
2 Reasons:
One, 24hr access continues to serve our community! And now that our gymnasium is also 24-hrs, you can get your rec' on any time!
Have you heard about our new Extended Access options for those 16yrs+? This means that regardless of staffed hours, those 16yrs+ can enjoy the weight room and gymnasium between the hours of 5AM-9PM DAILY! And if you're 19yrs+, you can bring another ARC member of any age with you! Need somewhere for your child to burn some energy, but we're not staffed? NO PROBLEM! Get your membership, your key fob, and enjoy that gymnasium for all it's glory! See posted facility rules for details.
And Two, our programs continue to grow and grow and grow. ARC AfterSchool & Full-Day Summer camp are two of the newest and most successful programs. When you're a member, programs are approx. 50% off, so it makes sense to consider membership when you're signing up for programs!
Ultimately, we  know that when we pay attention to the needs of our community, our community families and children benefit. I am continually energized by the growth of the ARC and we sincerely thank you for your support!
---
   What's going on this fall at the ARC?
K-2nd youth football is wrapping up next week. Thank you to Tim Devlin, Jim Bargen, Greg Burger, James French, and the WNCC Lineman School for being awesome volunteers! The kids had fun and certainly those adorable K-2nd cheerleaders did too!
Our newest partner, Panhandle Gymnastics from Chadron, has been holding gymnastics classes for all levels and is adding another night to her schedule. Contact Ashley Strong directly for information. All registrations, all payments, all class schedules and options go through her.
Rookie Sports for 3-5yr olds has been really popular and is a newer class. This format will be back in the winter where kids will learn the very basics of sports with the help of a parent and group instructor. It's the perfect program for families to spend quality time together learning something new!
Other programs going on include taekwondo, jiu jitsu, cheerleading, and KinderGym! Check with our front desk staff to see if there's space left!
K-6th grade youth basketball starts up at the end of this month! We are switching it up this year to be a league format just like youth flag football. Players will be split up into teams and enjoy one weekly group practice on Saturdays with games on Thursday nights at the ARC. We are actively looking for coaches, so if you're interested, let us know! We will provide leadership with the help of APS coaches, a manual, and some awesome coaching swag. Click on the flyer above for more details!
Looking for some ARC swag in general? Shop our fall apparel HERE!
---
What about adults?
Womens and CoED volleyball are going on right now!
5v5 Basketball League is about to kick off! Are you a player looking for a team? Join our adult sports Facebook group to help find one!
Our newest group fitness class, Power Pump, has been a hit! This class utilizes barbells and weights to amp up your workouts and get you fitter than a fiddle!
Pickleball players are still going strong! This is such a great sport for any age group! Check on the gym schedule for available gym space!
Catwalk & Cocktails was a super fun event last month. Congratulations to the WNCC Linemen crew for winning Best Overall and to Kay Bakkehaug for winning People's Choice.
This is a ways out, BUT. We. Have. A. Prom. Date. for next year! Mark your calendars for February 14th (yep, it's Valentines Day) and join us for Midnight Masquerade!
---
Board Activities:
Our Finance, Executive, External Affairs, and Facility committee will be strategizing 2020 in the coming months.
The basement carpet's days are numbered! We will be planning a date to rip that nasty carpet out. Want to help? Let Mara know!
We are busy making snow removal plans because APPARENTLY winter is going to happen again. If you're interested in helping to keep our parking lot clear of snow, let Mara know! This is an area that's a challenge, like it is for everyone. We're always glad when members help out!
We will be shopping for a couple new pieces of equipment for our weight room. Stay tuned for updates!
If you're interested in becoming a board member or committee member in 2020, applications will be out soon! We always have space for passionate "do-er" type members on our team!