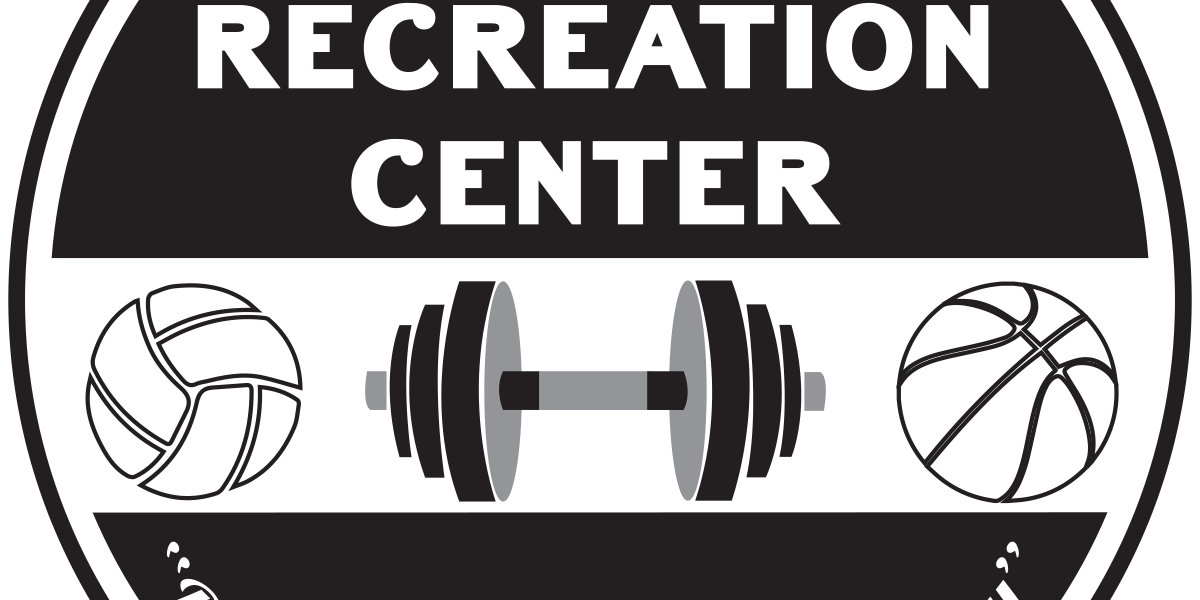 Member Update – July 2019
Welcome back!
You braved the first update and you're back for more. Good for you! So let's dig right in and recap the July happenings at the ARC to make ourselves neglect the fact that summer is almost over……
Make sure to make it all the way to the end for some EXCITING NEWS!!
Membership Recap:
Membership is up 15% compared to 2018! Memberships make our world go 'round and it's encouraging to see this trend continue!
244 kids visited ChildWatch
78 kids enjoyed KinderGYM
1,809 total facility visits!
We're busy and we're not slowin' down!
Grants:
We submitted for First National Bank's Community First Award. ARC AfterSchool could win up to $25,000 to help install the playground equipment Crouch Recreation quoted us earlier this year. Here's a sneak peek of the design they put together for us.
To help support this project and other fun plans for ARC AfterSchool, we are preparing grants for KaBOOM!, Snow RedFern Foundation, and the Alliance Mission Store. Here's a peek at what those project budgets look like and what needs we've identified.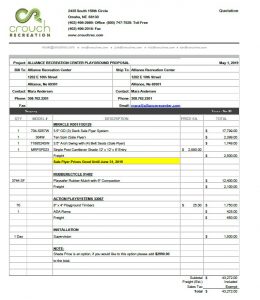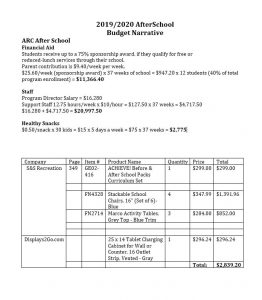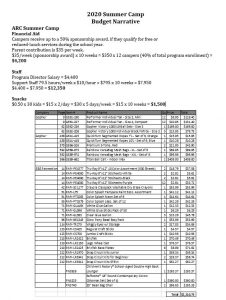 Programs:
From Summer Camp to Lady Bulldog Youth Basketball to Tennis Camp, we kept those kids busy this summer! Thank you to all our partners, volunteers, and magic-makers! We live in such an awesome community and it's fun to have everyone band together for our kids.
Summer Camp is a WRAP! We had 43 k-5th students enrolled (30 kids ongoing enrollment, 13 drop-in). 40% of students enrolled qualified for financial assistance. Thank you to Snow RedFern Foundation for providing those funds!
 Registration is OPEN for ARC AfterSchool! We currently have 19 kids enrolled with 11 spots remaining.
Check out our STEM-makerspace cart from TeacherGeek that arrived! This was a grant-funded project awarded by Beyond School Bells with the help of First National Bank.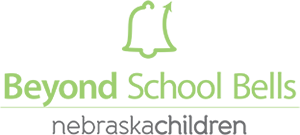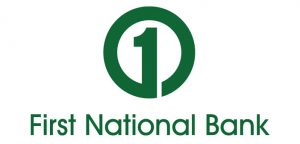 Our fall program guide planning is underway and we are preparing for an awesome fall full of youth flag football, basketball, jiu jitsu, taekwondo, and adult leagues for basketball and volleyball. Keep an eye out! Brochures will go home with students the first full week of school.
We are on the look-out for parent coaches for K-2nd flag football and k-6th youth basketball! If you're interested, contact our Program Director, Olivia Wilson at 308-762-2201.
Committee Reports:
Dana Bauer is the newest member on our External Affairs Committee! If you are interested and want to share your talents, our Grounds & Facility and External Affairs committees are great places to start. Contact Mara or any board member with your interest.
Our fundraising goal for the year was $40,000 and we have $27,652 left to raise in 2019. These funds are used for financial assistance for membership and program participation. For example, this month we approved two financial aid applications for a single-parent household and a person with disabilities, but a desire to be active, with limited incomes. Watch out for the next event the External Affairs committee is cooking up! Details should be released Monday, August 19th! And remember: when you support those fundraising events, you make awards like these possible for your friends and neighbors.
The Grounds and Facilities committee met and did a facility assessment. We need some help in the maintenance department! We have received three quotes from Morford's Flooring in Chadron, Nebraska. Those projects address all flooring in the old edition and would cost about $31,000. The obstacle, of course, is funding. We will keep working to identify a solution.
And now for the big news……
24/hr access is coming to the gymnasium!
That's right! All the convenience you enjoy with the weight room being accessible all day, every day is now coming to the gymnasium! From extra workout space, an indoor walking track, to a place to shoot hoops, or even to grab those pickleball nets and get some extra court time in – it's ALL rec, ALL the time!
Mobius will start construction soon and we'll keep you posted on when you can enjoy ALL the freedoms! We'll also be reviewing the afterhours ages. So if you're a family with kids and want to come play basketball Sunday morning, we're lookin' at YOU!
New staffed hours, ChildWatch & kinderGYM hours start September 3rd!