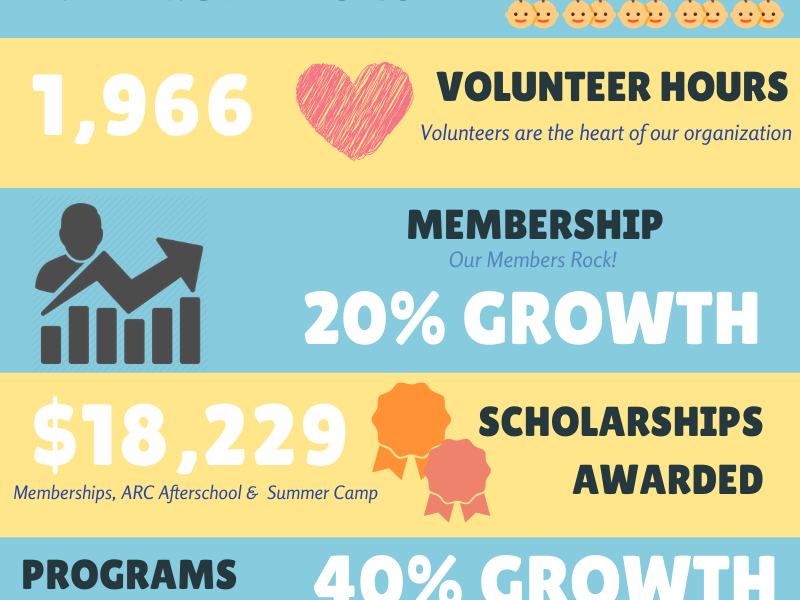 Member Update – January 2020
It's the end of a decade and we're rockin' and rollin' our way into the next! If this is your first monthly member update, WELCOME! These updates are intended to keep you informed of all the exciting things that happen at the ARC. If you're already an avid monthly member update reader, you're our kind of people — Welcome back! Check out our super sweet infograph for an overview of just how awesome 2019 was!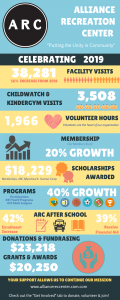 Membership
Membership continues to hover at a 19-20% increase YOY. Which is EPIC! But how busy does busy really mean? Last year, we had nearly 40,000 facility visits by our members! That number doesn't include any program traffic, that's just straight up members-visiting-the-facility data. If you're one of the 40,000, the most epic of high fives to YOU! That's absolutely something awesome to celebrate! If you weren't one of the 40,000, but want in on that happy dance, you're in luck! Right now, we have a special going on where you pay NOTHING until Feb. 1st. Click the flyer for details on how you can experience all the ARC has to offer!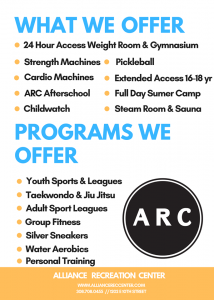 And kiddos? Our ChildWatch & KinderGym services (FREE to all those families on PLUS memberships!) had over 3,500 visits! Cassandra Koozer, Nicole Senden, Josie Brown, Jordan Vaughn, and a few other friendly faces are the people who make all your child watch dreams come true! Check out our Contact Us page for hours of operation!
Youth Programs
Youth programs at the ARC continue to grow both in participation and in variety! Program attendance has increased a whopping 40% in 2019! We're adding youth volleyball league and indoor soccer to our existing lineup of youth jiu jitsu, taekwondo, weight training, and football fundamentals! Check out the full guide and get signed up here! Thank you to all our instructors who make programs like these possible! In 2019, volunteers clocked over 1,966 hours!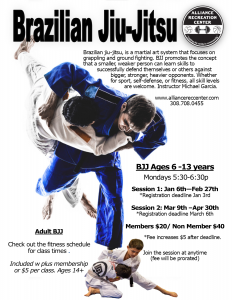 We created a central facebook page for our Brazilian Jiu Jitsu crew. Here you'll find all the class information, information about upcoming competitions, our Pagsuko affiliation, and all the fun memes you can handle! (If you're an adult, check out our Group X schedule for drop-in classes!)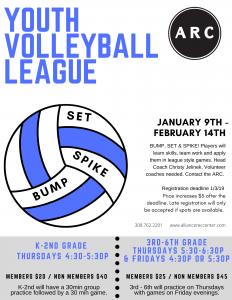 A HUGE thank you to one of our favorite volleyball coaches, Christy Jelinek! Christy is our lead coach for this youth league. This league follows the same format as our fall youth basketball program: one night for practices, one night for league games led by fabulous volunteer coaches. This year, our volunteer crew is Kari Bargen, Brittany Poss, Erinn Merrill, and Natasha Garcia. Thank you, ladies, for volunteering your time and energy to help make this program an awesome experience for the kids.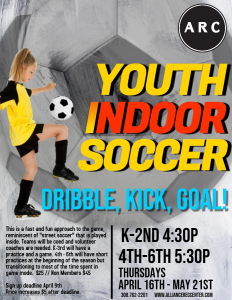 Newest to our line up is youth indoor soccer! We'll be collecting even more volunteer coaches for yet another youth league! We purchased soccer nets and balls to get ready for a fun, indoor program experience!
Group X & Adult Leagues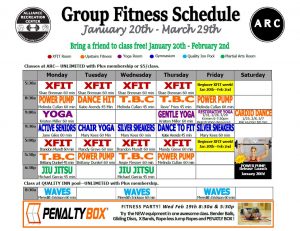 You know a way to make those pesky new years' resolutions easier to stick to? Grab some friends and attend one of our group exercise classes! Now through February 2nd, bring a friend to class for free! Curious to know what T.B.C class is? Read all the class descriptions here!
You'll also find some new accessories in our group X classes too! We're adding Penalty Boxes, gliding discs, bender balls, X bands, and ropeless jump ropes for all the spice your workout routines need!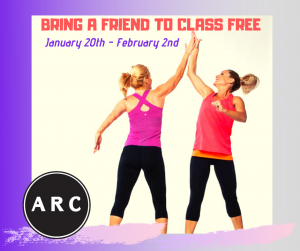 In other adult-related news, our staff personal trainer, Shjon Myhre, is offering equipment instruction seminars and options for personal training sessions. If you are seeking a weight room orientation, Shjon is your guy! He's very knowledgeable and interested in showing you the machines and proper technique to jump start your fitness journey!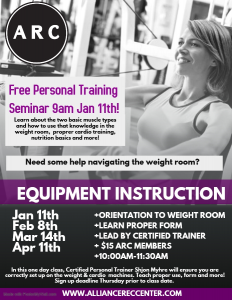 Interested in adult sports leagues?  If you've been wanting to learn how to play pickleball, the newest and greatest thing since sliced bread, join our Beginner Pickleball Night! This night is perfect for those who have never picked up a paddle or for those beginners who would like to hone their skills!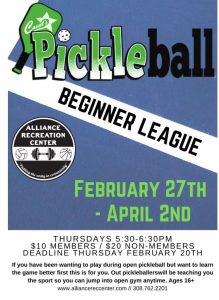 Womens and CoEd volleyball leagues are going on now! Teams are able to add players to the season, so contact a team if you'd like to join! 5v5 Basketball League is also going on right now! Click the flyers below for more details!
Special Events
Adult prom is baaaack! Did you miss last years' party? Check out Melissa Kimmel's video recap of an epic night! You won't want to miss it this year. Get signed up here! New to the prom lineup this year is our first Daddy Daughter Prom! How cute, right!? This event isn't solely for dads either; if you're a grandpa, older brother, caregiver, uncle, etc. you can certainly bring a magical little girl with you for an afternoon neither of you will forget! Have more than one child to bring? Awesome! We have ticket options to fit every group!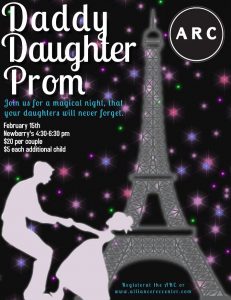 2020 ARC Board of Directors
Being a board member is more than a time commitment. It's believing in a cause so much, you're willing to commit your time, effort, energy, and even monetary support to make sure the cause is alive and well. Our community is very blessed to have these people working tirelessly to keep our community united through the ARC – a safe place that provides healthy activities, programs, and opportunities for people of all ages and from all walks of life. Thank you to our 2020 ARC Board of Directors, and a special welcome to Kari Bargen, our newest member.
Denise Harris, Chelsie Herian, Tarrah Krejci, Wren Wilcox, Bryan Buskirk, Mandee Best, Rich Zochol, & Kari Bargen